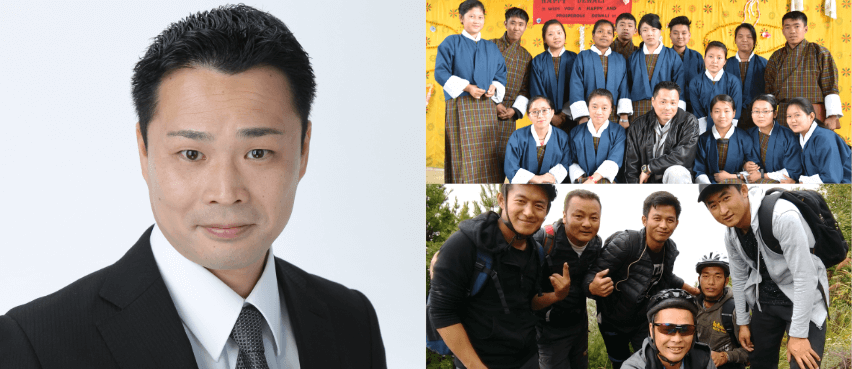 Greeting
Thank you for access to our website.
I am Masanobu Watanabe and president of this company. I founded this company in 2007. At present, we are installing various types of housing equipment, including electrical work, waterworks and gas work.
From 2016 July to 2018 July, I was JOCV (Japan Overseas Cooperation Volunteer) and working at vocational training institute in Bhutan as a plumbing instructor.
Bhutan is a small country in Asia. They live very modestly. It was such a great experience for me.
I want to continue to support developing countries. I can help for technical support or education. If you want to learn Japanese high technology technical for electricity or plumbing, please contact me.
Especially for vocational school or technical institute or electrician or waterworks company.
Thank you.
Company History and Watanabe activities
| | |
| --- | --- |
| November 2007 | Establishment of company |
| 2011 April to August | Engaged in temporary housing construction of the Great East Japan Earthquake |
| May 2013 | Change of company name for Lifeline maintenance & service Co., Ltd. |
| July 2016-July 2018 | As members of the JOCV(Japan Overseas Cooperation Volunteer), worked as a plumbing instructor at the technical training institute Chumey in Bhutan |
President Watanabe of qualifications
Master of Business Administration
Plumbing Works Managing Engineer (Level1)
職業訓練指導員(配管科)
Plumber (Level1, Construction)
Chief Engineer for Installation of Water Supply System
Chief Engineer for Installation of Sewage Work
Electrician (Category Ⅰ)
Liquefied Petroleum Gas Facilities Manager
Hazardous Materials Officer (Class B, Group4)
Oil Appliances Technical Manager
Foremen and safety and Health Supervisors
Gas Welder
Small Capacity Mobile Crane Operator
Aerial Work Platform Operator
Construction Machinery Vehicle Operator
Driver's License for Large-Sized Special Motor Vehicles
Senior High School Teacher's Advanced Certificate (Commerce)
Senior High School Teacher's Certificate Class 1 (Civics, Geography and History)
Junior High School Teacher's Certificate Class 1 (Social Science)
And others